Automotive Refinishing silver-medallist and Skills Champion Nathan explains why he thinks more young people should consider apprenticeships and how taking part in WorldSkills UK Competitions brought out the best in him.
Nathan didn't have a clear idea in his head about what he wanted to do when he was still at school. In his own words his childhood was "a bit unsettled, moving from house to house a lot, and my parents splitting up multiple times, including in the middle of my GCSE's, so things were sometimes pretty tough on me and my sister". He didn't know what he wanted to do for a job and tried a few career routes including studying law for a year or so before realising that it wasn't for him.

"I was in a dead end job in a car accident claims handling position, and I was unhappy sitting at a desk and speaking on the phone all day. So one day I sat at the dinner table with my dad and just had a chat about what my ideal job would be. Since I already loved painting and the idea of spray painting – and I loved cars – he suggested painting cars. My mind was blown there and then, I'd never even considered it. The rest is history!" It really shows that you shouldn't get disheartened if you don't hit on your dream career right away, just think about what skills and passions you have, and work from there.
He feels passionately that young people need to be told about all the career route options there are, and not just be told about university or a few trades that might not appeal to everyone. "I think schools and colleges need to push apprenticeships just as hard as the traditional school/college/uni route, because there's honestly so much more out there. Some apprenticeships can get you so much further and they don't leave you with debt, and they're free – in fact, you get paid for it! I can't understand where the negative stigma about them comes from."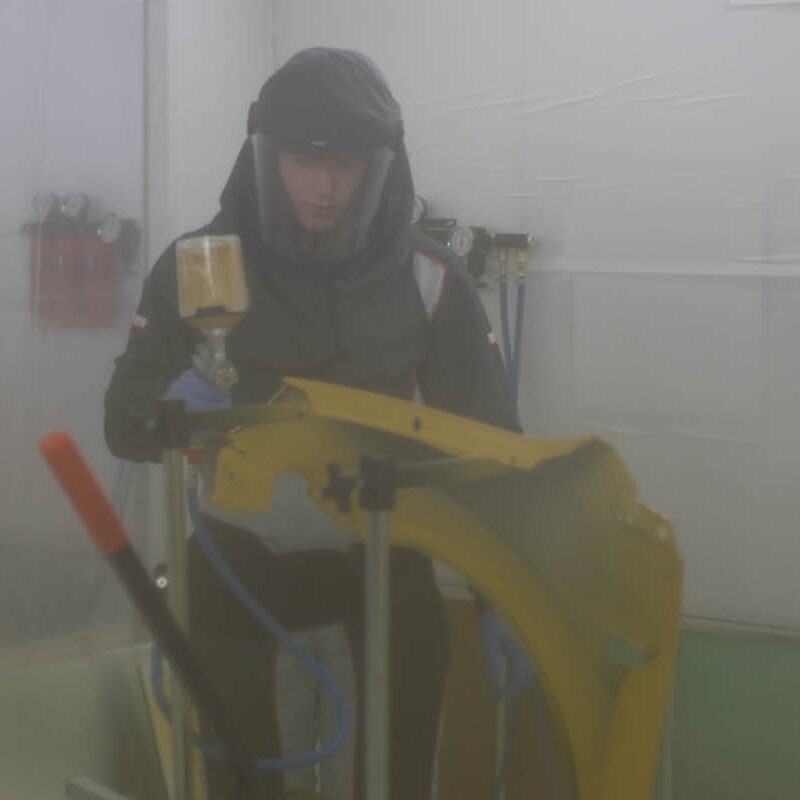 Nathan's training provider entered him into WorldSkills UK Competitions and he took to it like a duck to water despite fully expecting to be completely out of his depth:
"I loved how there was such high pressure and yet it never felt overwhelming. The competition brought out the best in me and the support of my fellow competitors and the WorldSkills UK trainers stopped it from ever feeling too much."
He says that the competitions have helped him realise what he is really capable of, and has given him confidence that he won't just crumble when he is put to the test.

One of these tests was the fact that he started his job as an automotive refinisher in a SMART repair centre, not a conventional body-shop. "We actually didn't have a proper spray booth at work so the only time I got to paint larger jobs was when I was at college." This lasted for two years until he decided to move north. " I uprooted my life and moved from Essex to York (about 260 miles away). It meant that I only had one year of real body-shop experience when I entered the WorldSkills UK competition, which was definitely a challenge."
He competed in 2019 and reached the National Finals in Birmingham and since then has decided to continue his journey with WorldSkills UK by becoming a Skills Champion. "I have decided to become a Skills Champion pretty much because I loved the journey from the initial testing all the way through to the finals – and I didn't want it to stop! I wanted to be involved in the competitions still and if I can be of value in inspiring younger people to really think about themselves and what they want out of life, then that's a massive bonus."
"
WorldSkills UK has benefited me in that I am now a lot more sure of myself. In my job there's many ways to do the same task and people often have different views and opinions on how things should be achieved. After using my own skills and techniques in such a high pressure situations as a competition, and coming out with a silver, I am a lot more confident in myself and the way I choose to complete a task.
Since the WorldSkills UK National Finals in November 2019 Nathan is continuing with his career in refinishing and concentrating more on the custom side of the trade. "I am trying to build a brand for myself out of my artwork (Lone Gun Artworks) – this would give me the creative outlet that I really crave and allows for my work to be appreciated and recognised – the goal is to not be invisible in my trade."

When asked whether he would recommend someone to enter a WorldSkills UK competition he says: Don't even think about not entering! If you have the opportunity to go for it, just go for it! You've got literally nothing to lose, and everything to gain, I promise.