Michael originally came from New Zealand to the UK in 2013. He'd spent years as a professional BMX rider, then met up with his best friend from school who was a bricklayer and worked with him one summer and loved it. "It was very hard work and being outside was great. As was learning around mixes and pointing etc. I liked that it was so technical and you needed a high level of skill to do it. First off it took me five minutes to lay one brick so I did it faster and faster to prove I could do it."
He had a lucky break in his job as a site labourer at St John's University in York when they offered him the chance to do an apprenticeship at York College in bricklaying which he took up. He's worked for St John's University building team for three years now.
Michael went out of his way when he was young to achieve:
"
Growing up I looked for challenges particularly sporting ones like playing cricket for my hometown and professional BMX riding which I found very challenging. Once you reach a certain level you attract funding and that carries responsibilities with it.
Although Michael's background was sporting, he was also attuned to a technical career, "My dad is an electrician with his own company and so I thought I'd like to work in the same sort of trade environment. I've always liked building and have lots of friends doing it too. You get to see what you've accomplished which is quite rare and that's something about bricklaying that I really like."
He first heard about WorldSkills UK Competitions from his tutor at college who showed learners the bricklaying competition from the previous year. He was impressed with the standards required. "I thought looked quite tricky and technical and wasn't sure I could do it, but then I thought I'd just give it a go. I first competed in June 2020 and was really pleased to get through to the National Finals."
His favourite part about competing was pushing himself to see a technical drawing and construct the work in the time given and meeting other people who also enjoyed his passion for bricklaying. Asked what the biggest challenge he faced when competing Michael says, "The time limits, having to achieve speed while maintaining quality through precision."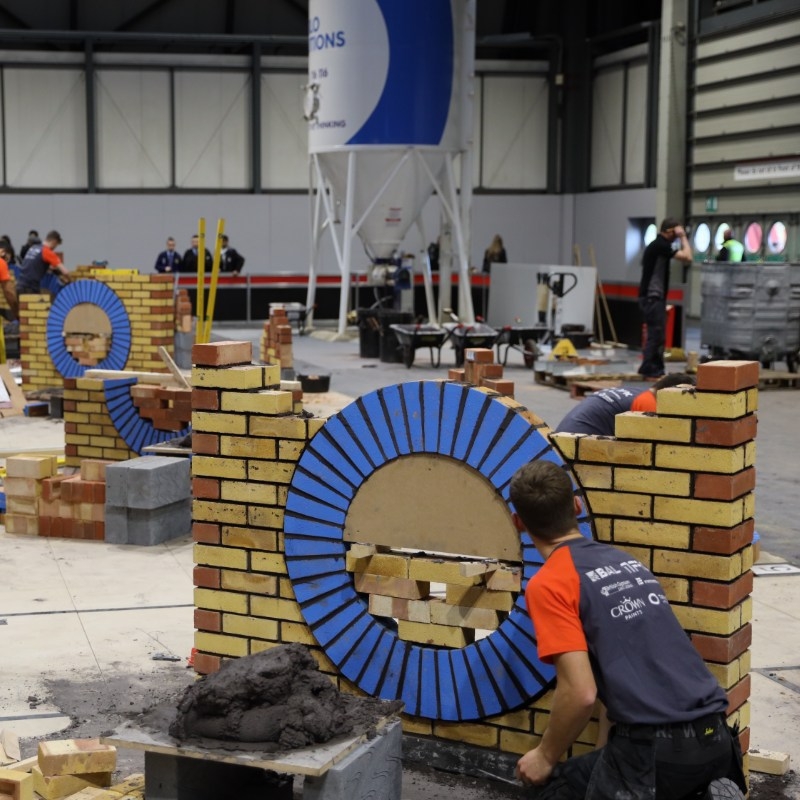 The training and practice that it takes to be successful in competitions has been a real benefit to him in terms of learning new skills such as, executing styles, curves and projecting radii and cuts to a high quality. Michael thinks competing has helped develop his soft skills too. "I've learned about resilience and how you can do anything you put your mind to. And how to stay focused without overthinking and the importance of staying composed." Asked what advice he would have for new competitors Michael says, "Take your time, don't panic, read drawings very carefully and keep referring to them during the work. Make sure your set-up is as you want it right from the start because you can't change it later. Most of all, enjoy competing, it should be fun and challenging."
Competing has helped Michael with his career progression:
"
It's given me a lot of confidence. I've come to know that I'm good at what I do and can deliver excellent quality results. Apart from my main job I also do a lot of private work and I'm confident about charging myself out at a reasonable price knowing the customer will be getting a good quality job.
Michael's current job at the university takes him beyond bricklaying into building maintenance and projects in general building, roofing and interior plastering and concrete work. His goal is to eventually have his own company, starting small on residential work and going from there. His motto is, "Never turn down work, just figure out how to do it."
Talking about young people making decisions about which career path to follow Michael says he wants educators, parents and government to engage more people into apprenticeships and technical education by "Encouraging them and getting them to appreciate that If you've got a trade, you've got it for life, it's something that will always support you and your skill will always be needed."