Ben Murphy competed at WorldSkills London 2011 where he was crowned one of the best young chefs in the world and awarded a coveted Gold Medal. Discover how his career has progressed since the competition to become head chef at one of London's top restaurants and compete on the BBC's primetime show, Great British Menu.
Ben studied culinary arts at Westminster Kingsway College and graduated with a distinction Diploma. He says that studying hard did him lots of favours following a less than ideal school career, "It distracted me from doing bad. People I hung around with were not the best, nor were my GCSEs but Westminster Kingsway treats everyone equally. I wasn't the brightest, but I was willing to learn and that was the most important thing."
Ben says Westminster Kingsway was "The foundation for everything I've learned from knowing how to hold a knife to cooking pasta al dente to learning how to make choux pastry." He's certainly moved on a long way from there to become Head Chef at Launceston Place restaurant, one of London's top modern dining venues.
Ben hadn't started out wanting to be a chef, "My focus was on football and I had a try-out with Queens Park Rangers but broke my collarbone and when trials finished I was too old at 16! I didn't know what I wanted to be. I wasn't a foodie and preferred comfort food like a spaghetti Carbonara or a McDonalds. What I cook at Launceston place is what I've learned. I guess it's a talent, it's what I like doing and I'm getting paid at the same time."
He first heard about WorldSkills UK from Michael Godfrey a WorldSkills UK trainer and mentor, "Michael explained that WorldSkills UK Competitions were the biggest platform and there was the potential to go to other countries and environments and work under more pressure than I was used to."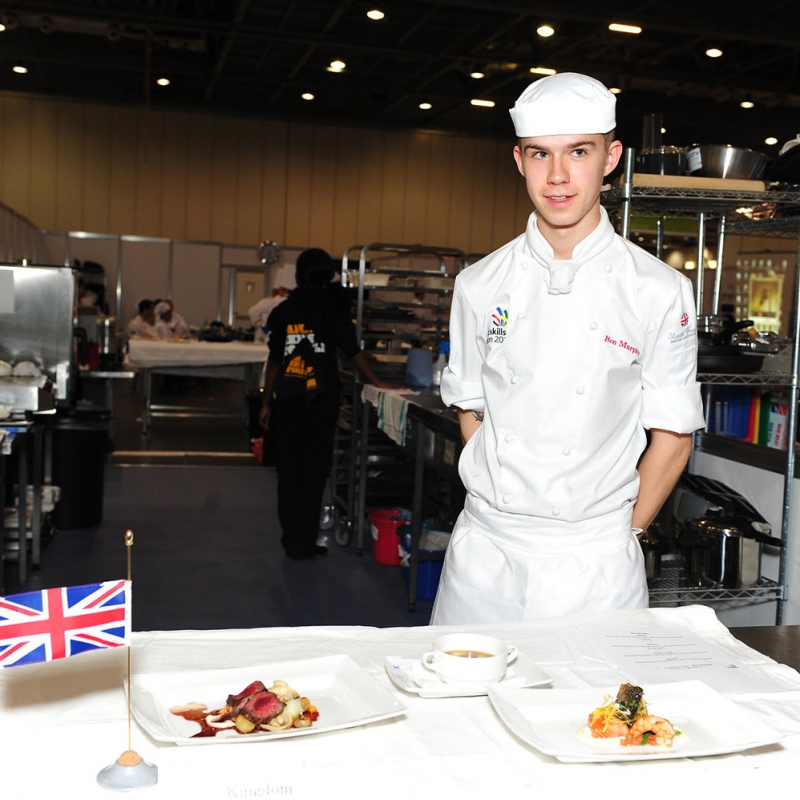 Ben's hard work paid off and he was crowned one of the best young chefs in the world, being awarded a joint Gold Medal in Cooking with Norway at WorldSkills London 2011. He is under no illusions about the effort that win took to achieve. "It was a relief after the amount of work I put in through two years of training, it was intense and getting the Gold Medal was crazy."
It wasn't just the actual competing at WorldSkills UK and international competition levels that Ben feels he benefited from but the whole learning and development experience, including the mindset training that WorldSkills UK is renowned for.
"
"Competing taught me to focus properly, how to draw away from distractions, develop patience and how to multi-task. The best thing about it was the other competitors, it was an eye opener for how much talent is out there."
"At the time I was working for Pierre Koffmann at the Berkeley in London. I was so lucky to have a good support network from my job and my family and it was good recognition for the restaurant, my profile and building my CV.

"From 16 years of age until I was 24 years old, I was working really hard learning my craft and the philosophy behind French cooking. Then I went to work in France for two years to learn more about French gastronomy. It was competing at WorldSkills London that gave me the confidence to do that."
Training and development for WorldSkills competitions develops competitors' employability as well as their technical skills and this is something that Ben feels is very important in his position.
"I've got a really good team at Launceston Place, they've been with me for three and a half years. They look up to me, where I am with my skills is where they want to be, which makes for a positive environment. We're with each other day in, day out, so it's like a family."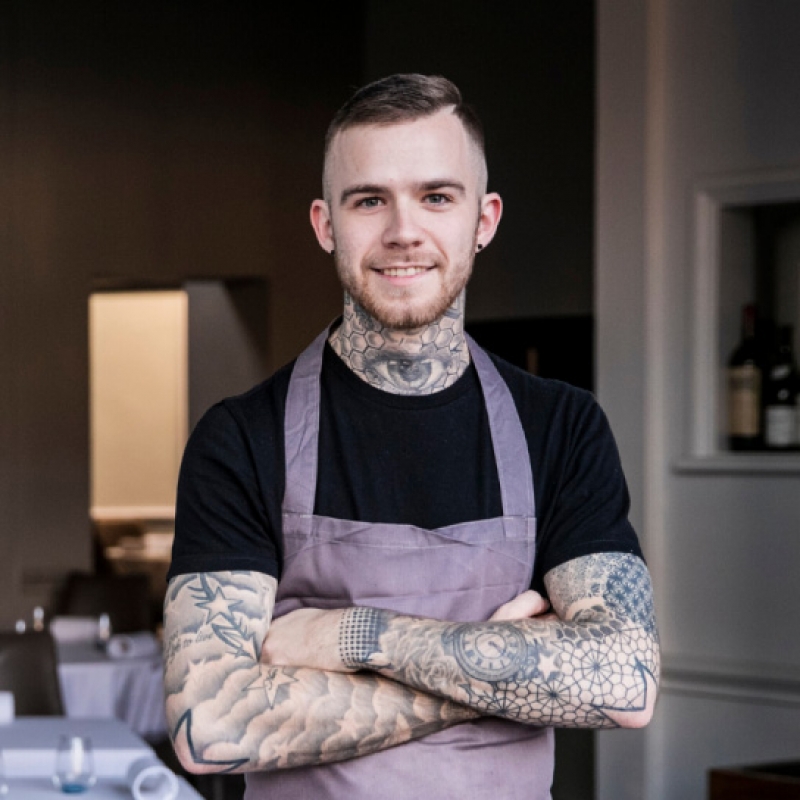 The pandemic which closed many businesses including restaurants has prompted Ben to branch out to keep working. "When restrictions allow, I go to people's homes and cook one on one, it's a good experience. In the first lockdown I did 52 home dinners in two months. Plus, I'm doing Zoom calls for one on one teaching. Even though I'm so busy I still reach out to mentors like Michael Godfrey at WorldSkills UK."
While Covid has made everyone question the future, Ben is optimistic, "Everyone has issues and problems, but it's how you adapt to them that counts." He can't wait to get back to Launceston Place saying, "It's great working for a restaurant that is fully booked with a two-month waiting list!"
On top of his day job, Ben is appearing on the BBC's primetime programme, Great British Menu, pitting his skills against other highly experienced chefs to produce a stunning four-course banquet menu for some of the toughest judges in the business.
Asked what his recipe for success for new competitors in culinary arts Ben says:
"
"Learn what food style you're interested in. Fine dining is long hours and great pressure, but if it's pub dining it's 40-hour weeks and time off, but you won't learn so many skills. What you put in is what you take out at the end."