Living in Plymouth Steven attended the town's City College for his plastering course and is now working as a multi-skilled tradesman at Plymouth Community Homes which in November 2021 won the Abecrombie Best New Building Award for its Passivhaus-standard development at Primrose Park Plymouth. These innovative homes meet the world's leading low-energy building standard which is the largest of its kind in the UK.
Steven was always set on being a plasterer right from the start. "I genuinely enjoy plastering and wanted to learn as much as I could about it. So, after working as an 'improver' plasterer, I decided to look into an apprenticeship after talking with my wife about making the jump, becoming a 30-year-old apprentice at the time felt like a step backwards. However, we both decided that I obviously enjoy the job and it's something that would benefit us so much in the long-term so, the apprenticeship hunting started. A position had been advertised with Plymouth Community Homes and I applied right away. I was successful in the interview and could not ask for a better company to work for."
Steven first heard about WorldSkills UK Competitions through his college lecturer, "He had competed in one of the regional competitions years ago and was telling me all about it, how I would do well at it. So, I said "sign me up, I'll have a bash". He first competed and was successful in the National Qualifiers in 2021 and went on to compete in the National Finals is November the same year. Asked what his favourite part was about competing and undergoing competition-based training Steven answers simply, "Learning all the new skills and different types of plastering."
Competing is all about technical skills and the ability to problem-solve and manage time and Steven's particular challenge was learning totally new skills in a short time period.
"
When I first discussed competing with my lecturer, he explained to me that there are sections of the competition that include NVQ level three aspects, such as casting plaster and so on. As I was doing NVQ level 2, these aspects were completely new to me, I had never tried any of them, so I had five weeks to get up to same standard at something other competitors had been doing for the last year.
He knew he would have to put in lots of extra work in order to reach competition standard. "To give me the best chance, I spoke with my Repairs Supervisor at Plymouth Community Homes asking for extra time at college. As always, they could not do enough for me they allowed me to go to college three to four days a week. Some days I would get to the college at 8am and practise till 5pm, grab some dinner from the local shop then go straight back to practising till 9pm, go home, and then be up at 6:30am the following morning to be back down the college by 8am again. "Every spare moment I had I would be poring through videos online trying to pick up extra tips; evenings, lunch breaks and even between trowels when I had a 'set on'. I poured myself into it as much as I could, just to give myself a fighting chance."
But it wasn't only the technical skills that Steven developed, he also found he could improve his focus even when the going was tough. "I have really learned to control myself under pressure, this is something that I wouldn't have dreamed of a year ago as I had next to no confidence in myself. This competition has cemented into me that, actually, I am a good plasterer, I have to be to get this far and I should be proud of that."
Steven feels that competing has helped his career prospects. "I like to think that doing well in this competition played a small part in my securing my full-time position with Plymouth Community Homes, which I am so so so grateful for. The organisation has an amazing award-winning staff intranet system called 'Jannet' (Janner Intranet), which celebrates staff achievements. Obviously, my participation in this competition has received a great deal of attention and has been plastered all over Jannet. As a result, I've received a wave of positive feedback from all my colleagues which I believe has benefited my work tremendously."
"
Do it! It will test your skills, force you to improve yourself not just with your technical skills but your organising skills, your pressure-management skills and if nothing else it gives you tremendous bragging rights ha-ha!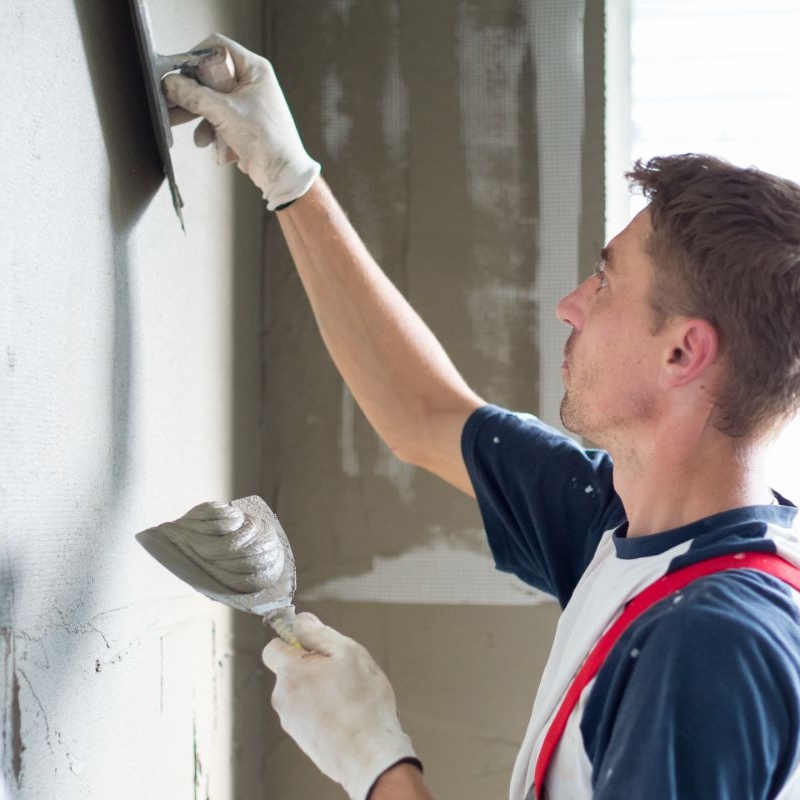 Steven enjoys working with his company so much he says there's no way he would leave and believes the skills he's been taught have reinforced the organisation's core principles; Care, Respect, Listen and Do the right thing."
"
I will never stop trying to develop my skills. I am always open to new methods, materials and tools. I would like to stay with Plymouth Community Homes for the remainder of my working life, I would definitely like to progress through the company, maybe working with apprentices in the future to help them through the process, using some of the skills and tips I picked up along the way.
Steven has clear ideas on how earlier career development for young people can be improved, "Apprentice alumni is something I strongly believe is needed in every educational facility, employer and in government. There is an incredibly inaccurate stereotype of how apprentices are treated and what's expected of them. This was honestly one of the cons for me when I was considering an apprenticeship. But for me it couldn't have been further from the truth, the experience was nothing but positive and I recommend it to everyone. If there's something you're passionate about and enjoy, then do your research on companies within a distance you're willing to travel and get in there! We all need to do what we can to try and dismiss this inaccurate stereotyping for good and highlight all the positives that come with the opportunity."