Today we announce a partnership with HRDKorea as part of our commitment to support the post pandemic global recovery.
This partnership will leverage international policies and best practice in skills development from Korea, which we will share with our education and employer networks throughout the UK. We will also be showcasing our technical provision here in the UK as we work with HRDKorea to raise standards in technical education and apprenticeships.
"
We are delighted to be working with HRDKorea on this exciting new partnership. We know that to help create better opportunities for young people, to help employers be internationally competitive and to help attract more inward investment to fuel recovery and growth, we have to develop a world-class skills economy and a new generation of highly-skilled technicians. We believe the best way to do this is to work with our peers in the WorldSkills Network to share insights and best practice.

"We have seen the importance of Korea's highly skilled workforce in delivering a strong economic performance during the pandemic and we look forward to sharing knowledge and working together to support young people to develop the high-quality skills needed by employers and investors in key growth sectors such as digital, clean tech and advanced manufacturing."
Mr. Kim Yang-hyun, Vice President of HRDKorea, said "This MOU is quite different from what we have had before since it can promote best practices by a partnership with skills advanced countries like the UK.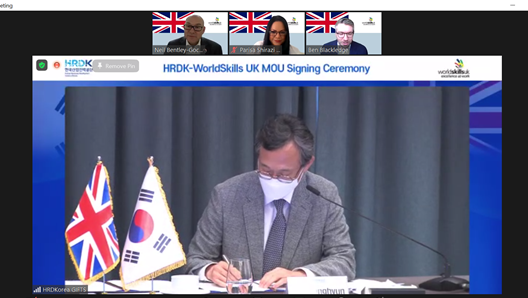 "This partnership will be a great platform to provide opportunities to strengthen the capabilities of partner countries of WorldSkills Members by demonstrating our expertise together. We look forward to contributing to the development of future industries and technologies between two countries through exchange human resources and best practices and cooperative activities."
This announcement follows the signing of our partnership with WorldSkills Chinese Taipei on 21 May. We will be signing further partnerships in the coming weeks with countries including Japan, Russia, India and France. In total, we will agree 11 partnerships with WorldSkills Members by the end of the year.