Edward Harringman lives in the historic town of Battle in East Sussex and studied cabinet making at Chichester College. He grew up in Spain and returned to the UK as a teenager. He developed an interest in woodwork which he first took at GCSE level in school. "I'd always had an interest in making things and learning about how things worked, so embarking on a technical education subject seemed a good fit with me."
He first heard about WorldSkills Competitions at Chichester College which had been involved in them for some years at a National Final level and particularly from Luke Griffiths who competed in the 2009 WorldSkills competition himself and was his first-year lecturer.
First competing in the 2009 National Qualifiers, Edward took part in the cabinet making competition in 2010 where he won fourth place followed by second place in 2011, then achieving a first in 2012. He went on to compete in WorldSkills Sao Paolo 2015 competing with over 80 countries, where he deservedly won a Gold Medal for his outstanding performance.
While training and practice is an absolute necessity to do well in competition, there are more benefits which come with that he believes. "My favourite part about taking part in WorldSkills UK Competitions was the overall experience and the people I met during the process. Training for the competition was such a unique experience and taught me so much about personal performance. I also met a great bunch of people who all had such drive, it was a really great environment to be in."
Competing in WorldSkills Competitions is a testbed for technical skills and the other qualities that come together to achieve high performance. Talking about the need to 'bring it all together' Edward says, "My greatest challenge was speed; my quality was often very good but maintaining the speed to get the project finished was always an issue. Obviously in a competition if you do not finish the project, you miss out on lots of marks. This issue did run through right up until I won the Gold Medal at WorldSkills Sao Paolo as I only finished the project with around 10 seconds to spare! I overcame the worst of it through lots of practice and improving my time-management with my training manager Christian Notley."
Edward believes the competitions help develop more than purely technical skills. "I learned a lot about processes and how to improve them. As you can imagine in competition it's about creating ways to do things and then to review and improve them to either increase quality or speed, or both.
"
I would strongly encourage anyone to get involved with WorldSkills Competitions, Across industries the competitions are becoming more well-known and I think from an employer's perspective they not only show technical skills but also the 'soft skills' that employers want such as, time management, performing under pressure, the ability to understand a brief and maybe most importantly, the ability to work at high performance and quality levels.
Post competition Edward has focused on forging his career path in the extremely competitive pre-construction sector. "Returning from Sao Paolo my focus was on getting my own business up and running. "So, I got a job at a high-end furniture company where I worked for around a year to gain some experience in the industry. I then joined my brother in creating and running our oak-framing company called Trade Oak Building Kits of which, I am now Managing Director.
"
We manufacture anything from small porches to large bespoke garage complexes. If it's made from oak, we can make it. We work with carpenters and builders as well as non-trade customers who are generally project managing themselves. We currently manufacture around 250 oak frames a year which roughly equates to about 1,000 tonnes of oak. All the wood we use is sustainably managed French green oak.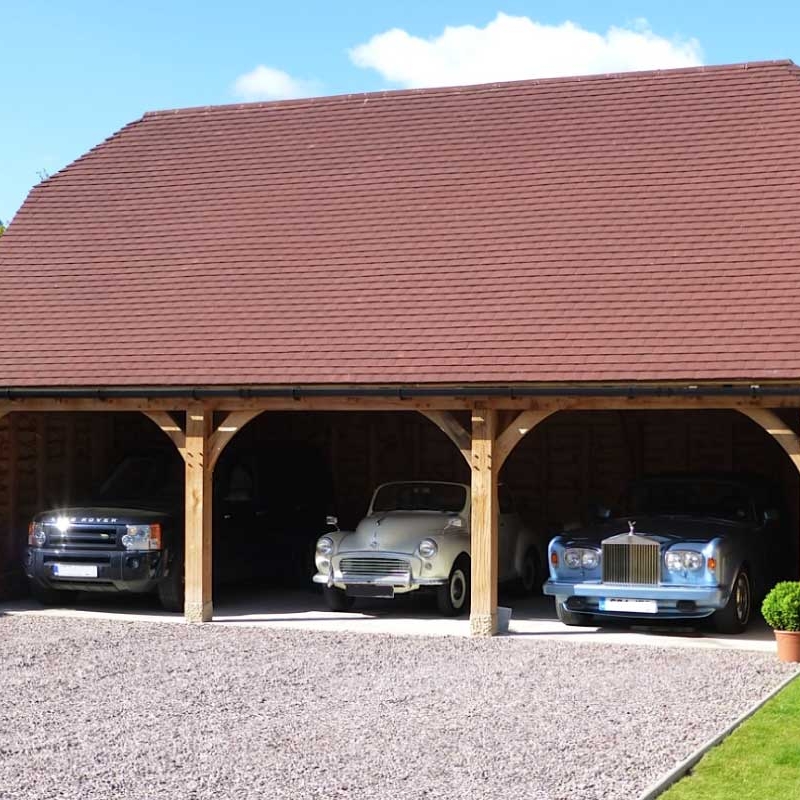 "Being involved in WorldSkills Competitions has massively benefited Edward's career. "The training has taught me how to perform under pressure and helped me manage the stress of running a company and knowing how to keep focused. The approach of having to constantly review how you approach competitions is very similar to business and I think this reflective approach has speeded up our growth as a company."
Covid-19 has had mixed impacts on Edward's business. "Our sales increased due to people investing in their properties rather than going on holiday, but it has heavily disrupted our supply chains which has created some issues, which we have worked hard to overcome."
While Edward has achieved great things in his career so far, his sights are still firmly set far into the future:
"
My career goals are to continue to grow the company to where I feel we are at the forefront of the industry and eventually to be recognised as one of the best timber manufacturing companies in Europe.
His learning journey is also continuing," I am due to start a Master's in Business Administration in January 2022 which I think will be a great way to deepen my business understanding and give me the tools to get the company to the next stage."
Asked what he would like to see change to benefit young people considering career options Edward says, "I want to see more secondary schools offering technical education at GCSE level and encouraging young people to consider technical education to begin their career paths."