Our Restaurant Service Squad team recently took part in a Virtual International Pressure Test with Hong Kong. Our Restaurant Service Training Manager Dr Shyam Patiar MBE explains what was involved and how it has helped to prepare our competitors for WorldSkills Shanghai 2022.
There has been an ongoing relationship between the Training Manager from Hong Kong and I for the past three years and we have been keen to hold a pressure test with our competitors to help benchmark our skills and share best practice. The Virtual International Pressure Tests, which WorldSkills UK have organised across a number of skill areas, were the perfect opportunity to train and develop our competitors' skills alongside each other.
As part of the virtual pressure test, which took place over Zoom, competitors were required to carry out the following tasks:
• napkin folding (ten different types) one using a plate and one with a wine glass
• decanting of a bottle of vintage red wine which included mise-en-place, presentation, explanation of the wine, opening and decanting of the bottle ready for service
• preparation and service of Irish coffee (two portions)
• in addition, we also assessed the competitors' personal presentation, posture/stance and social skills/attitude during the competition period.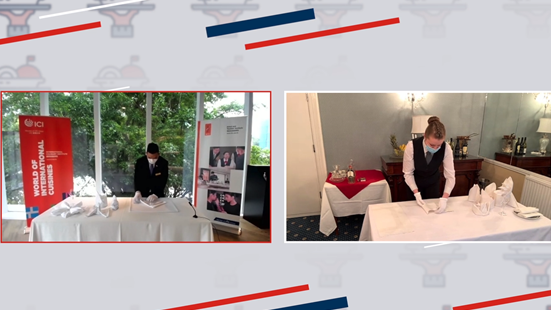 For each task, competitors were allocated 15 minutes to set up the mise-en-place and 15 minutes to carry out each task. Our competitors took it in turn to complete the tasks, except for the napkin folding which was done simultaneously.
Each task was marked using WorldSkills International Criteria. This involved measurement marking and judgemental marking. The Training Manager from Hong Kong and I carried out the marking independently. At the end of the competition, we both moderated, exchanged our comments and agreed the final marks for each competitor.
Our Squad members had an excellent experience of working with an international partner.
"
It allowed them to experience performing under pressure and they were able to gain a lot of insight into how easy it can be to miss out an ingredient or use the incorrect sequence to complete a task.
This will help them to develop both their technical and personal skills and to prepare for WorldSkills Shanghai 2022.
I also found the experience really useful as a Training Manager. It gave me a great insight into the different ways that competitors perform once they are put under pressure, which highlighted the importance of carrying out pressure testing! It also gave me the opportunity to compare the time allocated to prepare the competitors in each country and the resources provided for restaurant service training.
These insights from our international counterparts will be really valuable for helping us to develop world-class standards of excellence in our competitors and raise standards more widely across the UK.
Find out more about our Virtual International Pressure Tests