Michael McGuire, our Training Manager for Building Information Modelling and Lecturer at New College Lanarkshire explains how the college worked together with Autodesk to run the first ever Digital Construction Challenge virtually with 25 Students from nine leading UK educational institutions.
2020 has been a challenging year for educators as well as students but it gave me the a great opportunity to experience first-hand what is possible through new approaches for delivering competitions virtually.
Delivering a competition virtually
Back in March when it became clear that many physical events and competitions will not be possible, Autodesk and nine educational institutions went on a call to explore if we could develop a virtual competition, leveraging WorldSkills UK BIM competences. We quickly realised by using the Autodesk Construction Cloud we were able to do just that as many educational institutions have leveraged the platform to track student progress and collaborate remotely. As soon as we made the announcement of the competition, it was amazing to experience first-hand the enthusiasm from seriously dedicated and incredibly skilled students despite the current situation.
Flipped classroom approach
To allow students to build their skills and practice for the competition from the safety of their homes, I developed with the support of Autodesk over the summer, dedicated distance learning materials based on the WorldSkills UK BIM Competition competences.
It was amazing to see the great take up, within a couple of weeks we had over 2,300 views on the videos which must have definitely been shared beyond the competition. A great learning for me was to see the success of a flipped classroom approach. Historically we trained students onsite prior to the competition and initially I was worried that we could get many questions due to the lack of the "classroom experience". Creating the videos allowed me to create engaging content and it also enabled students to train and practice at their own pace.
Supporting students prior the competition
To answer any student questions prior to the competition, we hosted multiple video conferences with students and educators. To support students beyond the video conferences we created a WhatsApp group as a "support line." It turned out that this group allowed students to bond and create a community. Although many did not know each other before, there were many conversations which still make me smile today and it's really amazing that the group is still active past the competition.
Ensuring quality
As part of the competition, students had to complete over 30 real world, industry level project tasks in a challenging timeframe of four hours. Students were required to work to a BIM execution plan and follow ISO19650 processes designed to test their readiness for the built environment workplace.
To ensure the quality of the competition we used Zoom and asked students to share their video via webcam as well as share their PC screens. this allowed six educators to monitor the students throughout the competition. If students had any questions they could join a designated breakout room, which I managed. Students showed just how high their knowledge and skills really are. We couldn't have asked for more from a single person that participated. Every one of them was a credit to their self and their education institution.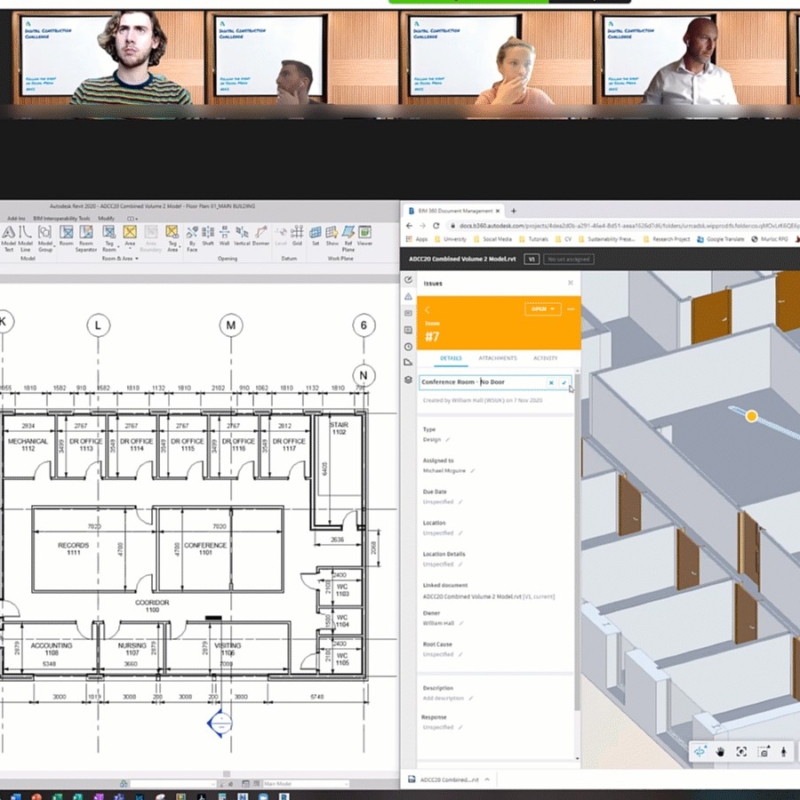 Celebrating success virtually
To celebrate the student engagement and success of the competition we decided to organise a virtual awards celebration. Hosting the celebration virtually we had the amazing opportunity to industry professionals to present the awards including Alisder Brown from Baker Hicks, Dee Aylett Smith from WorldSkills UK, Minahil Nawaz from Squad UK and Billy Breen from Prodigy Learning.

To create a community spirit all competitors received a 'watch party kit' including snacks and Autodesk goodies, to ensure they could have a fun celebration. We shared the event over LinkedIn Event and I was amazed to see that the ceremony had over 90 attendees from industry and academia across Europe. The ceremony was a huge success and one of the great benefits was that it allowed some parents who live abroad to celebrate the success with their children.
The winners were:
1st place: Pawel Kudosz, New College Lanarkshire
2nd place: Brouk Anteneh, Oxford Brookes University
3rd place: Desislava Veleva, Middlesex University
Participating Institutions:
Birmingham City University, De Montfort University, Liverpool John Moors University, London South Bank University, Middlesex University, New College Lanarkshire, Oxford Brookes University, Sheffield Hallam University, University of Salford.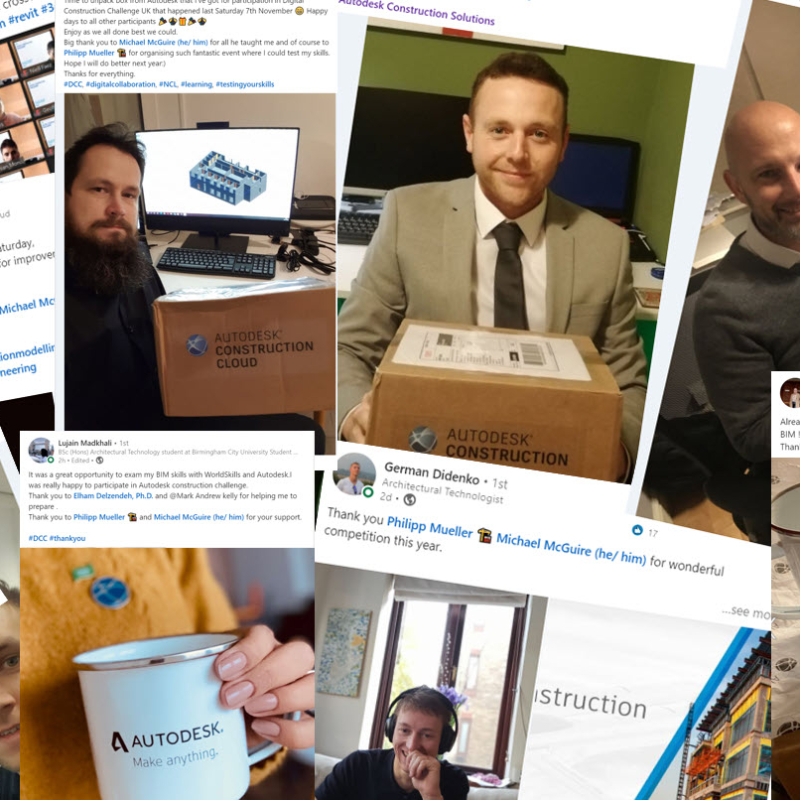 Building a momentum for the WorldSkills UK BIM Competition.
The Built Environment is UK's largest industry and over the last few months, has seen a phenomenal boost in digitisation. I strongly believe that through the experiences we learned from delivering a competition virtually and the WorldSkills UK BIM Competition, we can support the Construction Leadership Council's Roadmap to Recovery and that we have the possibility to help the industry adopt digital construction workflows faster through a young, digitally-skilled, workplace-ready student population.

I think the next step is grow and share the competition with a wider audience. Recently, I had the possibility to present the WorldSkills UK BIM Competition at Autodesk University Virtual which had over 100,000 attendees. In the session 'Bridging the BIM Skills Gap through an International Industry-Focused Competition' I presented together with WorldSkills BIM Ireland and the WorldSkills BIM International Team the perspective of educators on regional and international competitions.
For me personally, this was really a one of a kind experience and I would like to thank Autodesk, New College Lanarkshire, Baker Hicks and WorldSkills UK for your ongoing support.
What's next?
In spring 2021, the registration for the WorldSkills UK National Qualifier competitions open. If you are an educator, we encourage you to engage your students in the WorldSkills UK BIM Competition.

If you are a student or have students on a Digital Construction course of any kind who you would like to be involved in the next round of competitions, please register your interest, we would love to have you involved!