Training managers are our most precious asset in the drive to help young people get the best start in work and life. Experts in their fields, they believe in continuing developing their specialism as well as training and coaching competitors to perform at their best in regional, national and international competition. Having an in-depth knowledge of their area of professionalism is crucial including understanding and responding to changes in practice, policy and protocol. It is these values that have led to the appointment of two of our longstanding training managers to IfATE Apprenticeship Route Panels for both digital and care services, helping to shape the standards to ensure they stay abreast of industry developments and enabling apprentices to aim for excellence in their careers.
With a lifelong passion in training and workplace learning, Suresh Kamadchisandaram believes his combined roles of cyber security specialist, training manager for cyber security and chief expert for WorldSkills UK provide him with unique insights and skill set that will be to the advantage of the IfATE Route Panel for digital.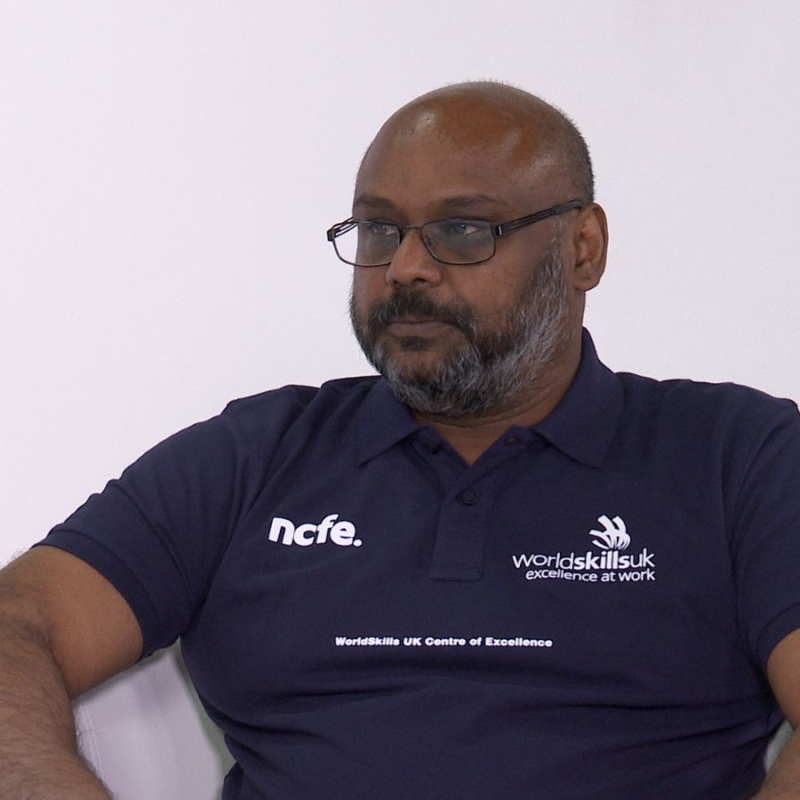 He has degrees in engineering, and several IT certifications "The way that technology moves on you have to have different disciplines working together, having an underpinning knowledge of multi-disciplines is very good". He has excellence front and centre of mind liaising with his peers from around the world and working with a diverse range of people, with various skill sets, which combine to bring value to his role.
Suresh has a long experience in working in both education and commerce, "I have successfully developed a range of vendor academy programmes to make available industry-required skills in the digital sector including: CISCO, Microsoft, PaloAlto, VMware and Huawei. Also, I've worked with the Electronic Commerce (EC) Council to develop bespoke training programmes in cyber security for adult learners in the workplace.
"Similarities exist between the development of high-quality apprenticeships and the WorldSkills UK Competitions. Both are looking to develop the best possible candidates for the all-important digital economy, working with a number of awarding bodies, industries and of course, Ofqual. In terms of developing the apprenticeships we're talking about working not only with the digital but many other disciplines as well. I'm looking forward to working together and networking with colleagues. One of the aspects we've started talking about is the importance of achieving a good gender balance as it's well-known that there aren't enough women coming into the digital professions.
"The route panel is a good idea: Bringing together people with different skill sets, and experience. There are the employers like Cisco and Microsoft and several leading IT-based organisations such as PwC, a lecturer from University of Newcastle and a head of digital from Sunderland College. I'm keen on learning from these members as well as contributing to proceedings. I'll always believe I'm a learner, as I tell my students:
"
As soon as you think you're an expert you stop learning. Don't wait for someone to give you the opportunity to learn, if you develop skills you can share them with others and you need to use them or lose them.
I lectured at Nescot for 13 years and a highlight was working with competitors each year in the national cycle of the WorldSkills UK Cyber Security Competition. Working with competitors at this level is a challenge to continually upskill myself as well. In the last five to six years we were successful in going beyond that point, to Squad UK and Team UK. "
Keen to get involved as a route panel member Suresh believes that although the UK has very talented digital professionals, there are still areas for improvement. "This enhancement for higher quality needs to start with the specifications of the qualifications. Through the route panel we have a great opportunity to contribute constructively which will help to inform both education on a national scale and the content of the WorldSkills UK digital competitions, medal winners of which, can go on to compete in WorldSkills Competitions on the global stage." It is exposure through international competitions that is helping to build profile for the UK in terms of building a skills-led economy and attracting inward investment in the technology sector.
"The awarding bodies need to submit their specifications for scrutiny and review, at that stage they would have involved employers, students and educators, to recognise what the current trends and needs are and what will be needed in the future. I tell students, "You are preparing themselves for jobs that don't yet exist, so many jobs will become redundant. As an awarding body we need to think of the jobs that will be needed at least five years ahead and beyond. The relevant curricula are very important. The awarding bodies don't validate them that often so we need to make sure there are a number of iteration cycles when we can update them.
"A key role the panel has to play is to help make sure the UK digital sector is developed not only in the technical skills but in the soft skills too such as communications. While languages are different depending on different countries the digital language is universal and we need to make sure the UK digital sector is ready to compete for contracts against the best in the world.
"In terms of the UK ranking in the international digital world, there is always more that can be improved upon, but that said, the other countries rate us very highly in the competition cycle. Cyber security will be increasingly important even in terms of national security measures."
Suresh's advice to young people thinking of a career in digital is, "Don't fear, if you don't try you don't know. Get that experience, successful or not you can learn from it. There will be less specialising such as being solely a networker, or a programmer. You need to be multi-skilled, the more skills you have the more opportunities you have to progress further. There are large skills gaps in this country, so you need to take this into account when deciding what career paths to consider. There are lots of well-paid and rewarding jobs out there.
A registered senior nurse, Jason Warriner was first involved with WorldSkills UK in 2010 when he was a workshop manager for WorldSkills London in 2011. He has a strong public health background in sexual health and also practises clinically as well. He is the Healthcare Manager for Crisis at Christmas, helping vulnerable and homeless people to get support and engage with services with the potential of them turning their lives around. His dual roles of healthcare professional and volunteer WorldSkills UK training manager for health and social care, give him unique insights into standards and sector developments and requirements, which are essential for his role on the IfATE Route Panel for Care Services.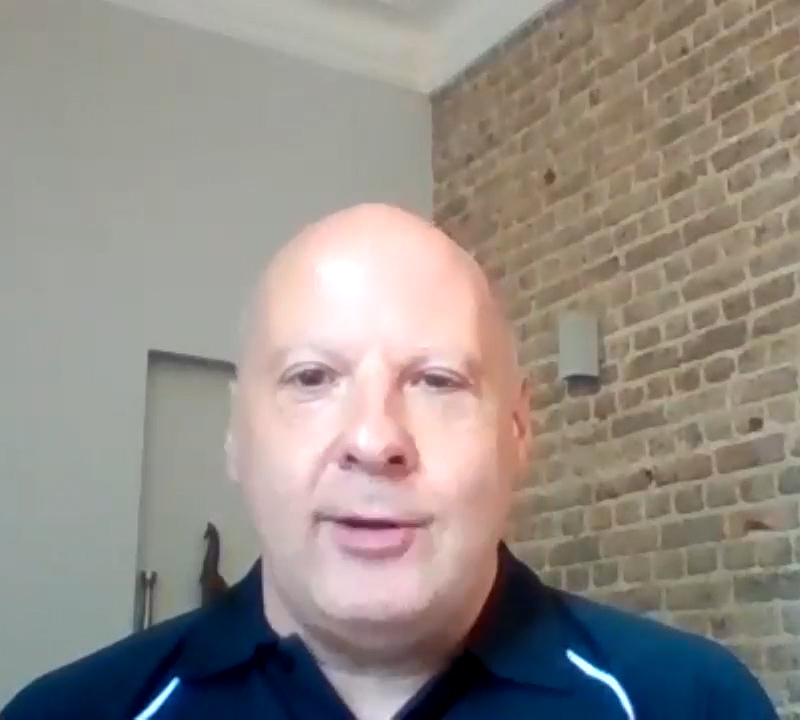 "When we're looking at young people leaving school after they've done their GCSEs or A-Levels, we need to see a range of options where they might want to do an apprenticeship or go directly into the workplace or to university or join an FE course. I'm a big fan of apprenticeships and the amazing thing about them is anyone can do them, regardless of age. Given what we've been through with Covid-19, I think there's going to be even more emphasis there. Looking at it from health and social care perspective with the high profile it's had over the last 18 months of the pandemic, it's about making sure we've got apprenticeship schemes that are working across health and social care that not only attract people but retain them as well. Joining the Route Panel for Care Services is a great opportunity to learn how this is all working at that bigger national level and bringing my industry knowledge and experience to bear where it has real value."
Jason has held senior positions in healthcare services over a number of years and maintains a focus on keeping his clinical knowledge up to date, "I don't think you can hold a senior role and have credibility unless you're involved in some hands-on, face-to-face work, to understand what's going on in the wider world. I think it is very important to keep lifelong learning and continuing professional development.
"International experience counts, I've learned so much from working internationally and with WorldSkills and we have a global workforce in the UK with international health and social care workers who make a huge contribution and sometimes we're not good at recognising the skills, knowledge, qualifications and experience they bring, For me it's thinking about all care and nursing settings. People automatically think of the NHS but it's much more than that, it's also the independent and charity sectors and it's different across England, Wales, Scotland and Northern Ireland. There's a lot of very experienced people on the panel bringing it all together, to make sure we've got high quality apprenticeships in place. Then It's about getting people to see the potential of opportunities there, and what brilliant career routes there are.
"The route panel needs to make sure that apprenticeships are high quality and meet the needs of employers, apprenticeships, learners and the economy at large. Part of our role is to approve the apprenticeship standards and assessment plan and the content of the T-Level qualification. It's about taking on that wider viewpoint. To young people thinking about an apprenticeship in health and social care, Jason advises:
"
Talk to people doing apprenticeships, go online to official sites, speak to careers advisers, If you're still at school or college, talk to teachers. Think about what you want to do in the future as well. Your apprenticeship might be the first step into employment starting your career off in an exciting, challenging and learning way. Get some part-time work experience, it doesn't have to be in the sector you want to get an apprenticeship in, it's about showing motivation to get into work, learning new customer care skills, communication, getting into that routine and structure, starting the 'professionalisation' around work, don't rule anything out.
Jason aims through his new role, to inspire more young people to take up apprenticeships and technical education and transfer global learning and insights to drive productivity in the UK through the focus on accelerated skills development and world-class training. "For me a key part of workplace learning is about enabling people to be the best they can be by creating opportunities and developing a culture of innovation. Promoting an inclusive approach to learning is essential so that individuals can consider their own learning needs and work towards achieving their professional goals."
Through the work of the IfATE Route Panels, young people and their employers will benefit from the technical and industry knowledge the members bring together, ensuring that apprenticeships are high-quality and industry-appropriate, helping to build the emerging workforce of young professionals focus on excellence in their roles.