Automotive Skills - Automotive Body Repair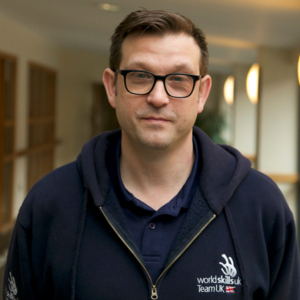 (Technical Masterclasses)
Frazer Minskip: Training Manager and Expert: Automotive Body Repair, WorldSkills UK High Performance Skills Coach, WorldSkills UK
Frazer has been the WorldSkills UK Training manager/Expert for Autobody Repair for 10 years and has worked in 4 international competitions and as the Chief Expert in Abu Dhabi 2017.
Jens Søndergaard Hansen: WorldSkills Denmark
William Speed: Expert, Autobody Repair, WorldSkills Canada
William started teaching Auto body in a high school to promote careers in the Auto Body field. During his time teaching, he was exposed to Skills Canada, registering his first student in competition in 1992 and finishing with a silver medal. He chaired the Toronto District School Board competition until his retirement. In 1995 he took over the Skills Ontario competition which he still chairs today. William took his first competitor to the Skills Canada competition in 2001, finishing 3rd place. He has been involved at the National level as a judge, National Technical Committee member, co-chair and chair of the National competition, becoming the Canadian Expert in 2017 for Abu Dhabi and continuing into Kazan in 2019.  
Cecile Bukmeier: Expert, Car Painting, WorldSkills Canada
Cecile Bukmeier is an Auto Body apprenticeship instructor at the Northern Alberta Institute of Technology in Canada. She began her career working in a traditional collision shop, and later expanded to custom paint and restoration. She enjoyed sharing her passion with apprentices and started formally training in 2016. Cecile competed in Car painting at the national Skills competition in 2013 and has since served on the provincial and national Skills Canada technical committee. She first became the Canadian expert in Car painting for WorldSkills Kazan 2019 and is continuing her role at her second WorldSkills event in Shanghai 2022.